Visit Famous Springs!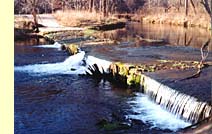 Spectacular springs, often the source of our beautiful streams, are found throughout the Ozark Heritage Region. For ages they have provided man's cleanest and most attractive water. More than a billion gallons flow each day from Missouri's ten largest springs. Be sure to visit a few when touring the Ozark Heritage Region!
Big Spring, near Van Buren, is America's largest single-outlet spring. Rising from the base of limestone bluffs, it pours 200 million gallons of water per day into the Current River. There is a lodge and cabins in the park, as well as camping, fishing, canoeing and hiking.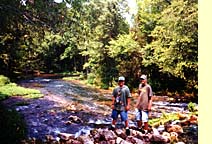 Greer Spring, near Birch Tree, is the second largest in the state. Its wilderness setting provides stunning natural beauty. The upper outlet goes past a waterfall and plunge pool and may be explored on foot. Don't miss the old Greer Spring Mill, at the start of the trail leading to the spring.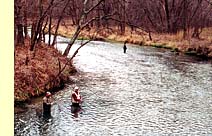 Maramec Spring, in Maramec Spring Park near St. James, rises to form a spectacular circular basin beneath high dolomite bluffs. The park maintains a trout hatchery and many fish below the spring exceed 5 pounds and are easily viewed via walkways. Trout fishing, picnicing, hiking and a museum are also within the park.
Blue Spring, near Mountain View, is named for the deep blue water rising from a cave beneath a high bluff on the Jacks Fork River. Visit it during morning hours when the entire cave outlet is in full sunlight, enhancing the deep blue hue of the water.
Alley Spring, near Eminence, empties 80 million gallons of water per day into the upper Jacks Fork River. A mill, built in 1894 and now a museum, is part of a park which also includes a pioneer one-room schoolhouse, swimming and picnic areas, hiking trails and campgrounds.
Boiling Spring, near Licking, produces 12 million gallons of pure Ozark spring water each day. Bright blue in color, it forms a pronounced boil on the surface of the river. The spring is a favorite fishing spot.
Montauk Spring, west of Salem, in Montauk State Park, is the source of Missouri's famous Current River. Within the park you'll find trout fishing, camping, lodge, cabins, restaurant, hiking trails and general store.
Round Spring, north of Eminence, rises quietly into a nearly circular basin. The basin is deep and shaded, nurturing growth of mosses that tint the water a deep aquamarine. A portion of the spring's cave is open to the public in summer and is rich in unusual geological formations. Picnic, camping and fishing are easily accessible.