Float a boat, cast a hook, or just get wet!
Sparkling rivers, forested hills and bubbling springs are all waiting for you in south-central Missouri's Ozark Heritage Region. Every part of our state has natural beauty, of course, but this region seems to have been created especially for lovers of the outdoors.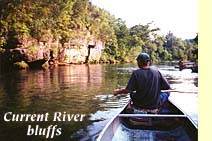 One way to experience this beauty up-close is on a float trip. Numerous canoeing streams flow through this region, each with a special character and excitement. Among the most popular are the Meramec River and its tributaries, Huzzah and Courtois creeks. Anglers know the Meramec for its rewarding small-mouth bass and brown trout fishing.

To the south lie the Current and Jacks Fork, America's first national scenic riverways. The upper Jacks Fork River is one of our wildest and most scenic streams as it flows through a canyon-like valley.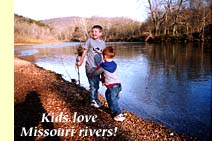 Canoeing on the Current River can begin just below Montauk State Park, which has excellent fishing for rainbow trout. As you drift along, watch for this stream's many springs and caves. Downstream, stop at colorful Blue Spring, then marvel at America's largest single-outlet spring, Big Spring, near Van Buren. The Current slows and widens as it reaches Doniphan where floating in innertubes is a favorite pastime.
Just north of Poplar Bluff is 8,400-acre Lake Wappapello, best known for its fine crappie fishing. Two scenic state parks and plenty of other public lands surround the lake, where you'll find several national hiking trails and even a ghost town. Head north and you'll find canoeing gems like the Eleven Point (a national wild and scenic river) and Big Piney.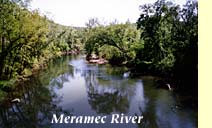 St. James is the gateway to Meramec Spring Park, where there's trout fishing, two museums, a nature center and historic iron furnaces. The St. James area also boasts several wineries open for tours.
Below Lesterville, canoeists can enjoy many miles of the Black River before it widens into Clearwater Lake, perhaps the state's most picturesque major impoundment. Swimming beaches, marinas and campgrounds are plentiful, and a variety of lodging is available on the lake and just east at Piedmont.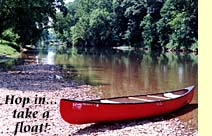 In addition to its wealth of water recreation, the Ozark Heritage Region has several hundred thousand acres of public lands, especially state conservation areas and national forest lands. They're perfect places for camping, hiking, hunting and other outdoor fun.

The Lakes
Clearwater and Wappapello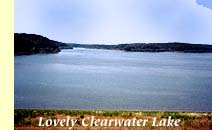 Clearwater Lake, near the Ozark National Scenic Riverways, offers boating, swimming, skiing and fishing, especially for crappie and catfish. Stately oak and hickory forests, steep shorelines and high bluffs accent Clearwater. Public-use areas offer camping, marinas, boat ramps and beaches. Resorts and motels are located on or near the water.
Lake Wappapello, a favorite among visitors to southeast Missouri, covers 8,400 acres from late spring through fall for all sorts of water fun. Crappie, largemouth bass and catfish are abundant. Campgrounds and marinas are located at several Corps public-use areas. Wappapello and Sam A. Baker state park offer campsites and cabins, and Corps concessionaires also provide lodging.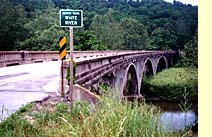 After you experience everything this scenic region has to offer you'll find yourself coming back again and again.