Parks & Historic Sites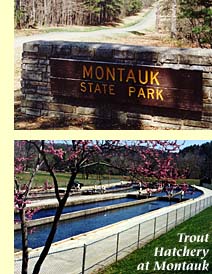 Dillard
Dillard Mill State Historic Site
On the banks of Huzzah Creek off Hwy 49 .
This red mill is one of the state's most picturesque. Built around 1900, the mill was grinding grain as late as the the 1960s. Now restored, it's operational again. Picnicking and hiking.
573-244-3120
Eminence
Alley Spring Grist Mill
Rt. 3, Box 19
Historic 1894 roller mill and one-room schoolhouse that were the focus of the Alley Spring community.
Open daily Memorial Day thru Labor Day • 573-226-3945
Blue Spring
14 miles east of Eminence on Hwy 106.
Called "Spring of the Summer Sky" by Native Americans. One of Missouri's prettiest and deepest springs. Quarter mile walk from the parking area.
573-323-4236
Graniteville
Elephant Rocks State Park
On Hwy 21 at the northeast edge of Graniteville in Iron County.
Mile-long self-guided Braille trail for visually handicapped. Braille-English signs describe natural features of 1.2 billion year-old Elephant Rocks. Picnicking and fishing.
573-546-3454
Ironton
Taum Sauk Mountain
9 miles northwest of Ironton on Hwy CC, off Hwy 21-49.
State's highest point, Taum Sauk Mountain highest waterfall, Mina Sauk Falls, are highlights of this rugged area in the scenic St. Francois Mountains. Picnicking, hiking trails, primitive camping.
573-546-2450
Ulysses S. Grant Monument
350 South Main
Surviving members of Ulysses S. Grant's old 21st Illinois Regiment dedicated this monument to their leader.

Leasburg
Onondaga Cave State Park
7556 Hwy H, in Onondaga Cave State Park
60 miles southwest of St. Louis off I-44 at Leasburg exit.
Tour one of the nation's finest "show" caves highlighted by outstanding onyx formations. Cave is designated a National Natural Landmark. Camping, picnicking, store, visitor center, swimming in Meramec River.
March thru October • Admission fee • 573-245-6576
Lesterville
Johnson's Shut-Ins
8 miles north of Lesterville on Hwy N.
Over eons of time, the Black River has carved canyon-like gaps, called "shut-ins," in some of the state's oldest exposed rock. More than 900 species of plants and wildflowers are in the park. Camping and hiking. Camping, hiking and picnicking.
573-546-2450
Mountain View
Mountain View Murals
First Street
Mountain View's Heritage Murals: To bring the past, present and future together.
417-934-2794
Neelyville
Alfred Lake Natural Area
5 miles east of Neeleyville on Hwy 142 and 2.5 miles south on Hwy H to gravel road.
Short boardwalk trail and viewing deck brings visitors into one of few remaining swamps in the area. Bald cypress, tupelo gum trees and variety of other swamp life.
573-840-9788
Patterson
Sam A. Baker State Park
3 miles north of Patterson on Hwy 143.
This park, named for a former Missouri governor, dates to the 1920s and encompasses 5,163 acres of the St. Francis Mountains. Cabins, dining, store, trails, nature center, campsites. Canoeing on the St. Francis River & Big Creek.
573-856-4411 or 573-856-4223 (cabin rental)
Visitors Center & Nature Education Programs
Rt. 1, box 114
Visit the museum and nature center exhibits at this beautiful Missouri State Park. It is one of the oldest state parks in Missouri. Park interpreters offer a variety of scheduled activities during vacation season.
Year-round with limited offerings and hours in the winter • 573-856-4411
Pilot Knob
Fort Davidson State Historic Site
Hwy V and Hwy 21.
Scene of Civil War Battle of Pilot Knob in 1864, between Union and Confederate troops. Confederate troops attacked the fort and over 1,000 men were killed or wounded in a fierce 20-minute battle, ending in defeat for the Confederates. Visitors Center and picnicking
573-546-3454
Poplar Bluff
Lake Wappapello State Park
16 miles north of Poplar Bluff on Hwy 67 and 9 miles east on Hwy 172.
Campground, hiking and backpacking trails, housekeeping cabins and picnicking.
573-297-3232 or 573-297-3247 (cabin rental)
Mark Twain National Forest
1475 Maud Street (Ranger's Station).
Developed recreation areas, hiking trails, fishing and boating provide many recreational opportunities.
573-785-1475
Potosi
Hughes Mountain Natural Area
On Cedar Creek Road, off Hwy M, south of Potosi.
A two mile trail winds through this unusual igneous rock landscape, which is home to collared lizards, prickly pear catus and coreopsis.
573-468-3335
Washington State Park
14 miles northeast of Potosi on Hwy 21.
Prehistoric Indians who one used the area left rock carvings, called petroglyphs, as remnants of their culture. Camping, hiking, cabins, picnicking and canoeing on the Big River.
314-586-2995
Rolla
S&T's Stonehenge
Missouri University of Science and Technology, Bishop Avenue / Hwy 63.
Half-scale replica of Stonehenge created using waterjet technology at Missouri S&T.
573-341-4111
U.S. Geological Survey Center
1400 Independence Road.
The Mid-Continent Mapping Center is a production, research and data management facility for maps and digital cartographic data products. Water Resources Division provides data and information about Missouri's water resources. http://mcmcweb.er.usgs.gov
573-308-3850
Salem
Montauk State Park
21 miles southwest of Salem on Hwy 119.
The park's seven springs form the headwaters of the Current River. Excellent rainbow trout fishing. Camping, cabins, motel, dining lodge and picnicking.
573-548-2201 or 573-548-2434 (cabin rental)
St. James
Maramec Spring Park
320 South Bourbeuse
Large spring, trout fishing, ironworks, camping, nature center, museum and shelters.
Year-round • Admission fee • 573-265-7124
Old Route 66
James Blvd.
Drive the beautiful divided boulevard. Start east on Hwy KK, through town on divided boulevard, west on North Outer Road.

Thayer
Grand Gulf State Park
6 miles west of Thayer off Hwy W.
Often called the "Little Grand Canyon." Gulf was created when the ceiling of a giant cave collapsed. The canyon winds for a mile through vertical walls up to 120 feet high. Hiking trails and picnic sites.
573-264-7600
Van Buren
Big Spring
Hwy 103., 4 miles south of Van Buren.
Over 200 million gallons of water flow from Big Spring each day, making it one of the world's largest. Enjoy hiking, camping and picnicking.
573-323-4236
Ozark National Scenic Riverways
Parts of Carter, Shannon, Dent and Texas Counties.
Missouri's largest National Park Service area offers canoeing, hiking, fishing and other activities along 134 miles of the Current and Jacks Fork Rivers.
Camping fee • 573-323-4236
Winona
Peck Ranch Conservation Area
12 miles east of Winona on gravel road off Hwy H.
Beaver ponds, granite glades, oak and pine forests provide habitat to turkey, deer, beaver, lizards and black bear. Includes 9.5 miles of the Ozark Trail.
573-323-4249